User guide
Home layout
The home screen is customizable to your preferences, so that it is easier to find the markets you prefer to bet on.
You can customize the sports tabs, just click the green plus sign to add a new sport tab.
You can customize your favourite events, by clicking the start icon on each line, or if you use the left sidebar "Markets" area, you can add the entire competition to your favourites. Your favourite events will go on the top of the lists in the home results.
You can customize which odds to see on the home results, by clicking on the eye icon. The odds will be a shortcut to open that market view (whether Grid or Ladder view, you change the default view in the software settings window).
The home results listings can be sorted with a simple click on the table header, and sort by Competition name, Event start time (default), has exchange offers, Markets count, has open position.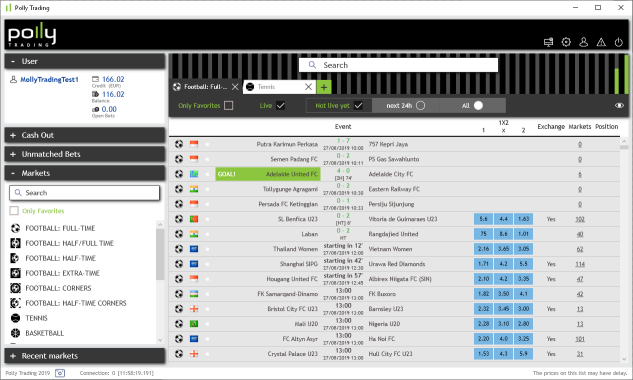 If you click on the event line, you will open the All Markets view, but if you click on any odd you will open the default betting interface Grid view or Ladder view.