User guide
Grid view
On the Grid view, you can place bets with a single click in the odd selected, using the chosen stake amount.
If you click on blue odds, you will place a Back bet, winning the bet if this markets wins.
If you click on pink odds, you will place a Lay bet, winning the bet if this market is NOT a winner.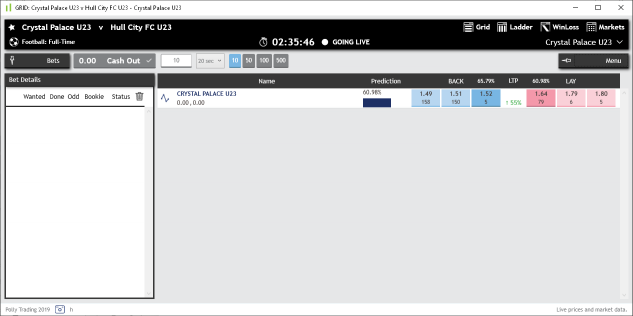 On the Grid view you can see the 3 bets odds (on each side, Back and Lay), with corresponding maximum acceptable bet amount for each odd.
By default, the left side panel is open, the "Bet details", so you can see all bets placed in that market, including requested odd and amount, and subdivided in matched amounts and odds on each bookie/exchange where your order was subdivided and placed.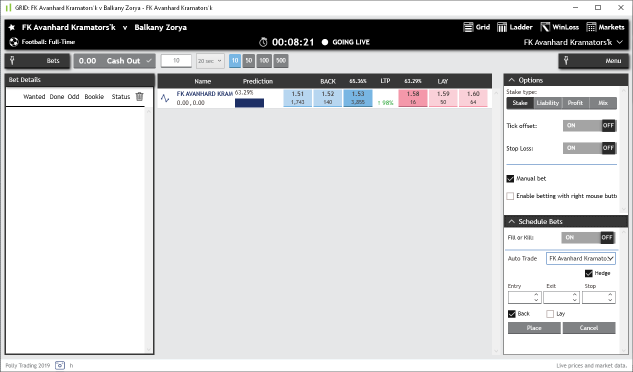 On the right panel, the "Menu", you can customize your bet placing options like:
Stake type – calculates the stake amount so that your defined stake will be the profit to have or the risked amount – see more on "Stake types" section of the user guide;
Tick offset – automated closing bet for the profit reached;
Stop loss – automated closing bet for the maximum loss reached;
Manual bet – bet confirmation popup;
Right click betting – will place the opposite bet when clicking with mouse right click on that odd, example: if you click on a Back @1.52 with mouse right click it will place a Lay @1.52, therefore "making the market", your bet will be unmatched waiting at that odd;
Fill or Kill – automatically cancel the unmatched portion of your bet after a given time;
Auto trade – set a bet and the corresponding closing bet ("Exit" to close in profit, and "Stop" to close in loss), and the software will only place the closing bets once the opening bet is matched.