the sky is the limit for your stake
Pollytrading is a powerful sports trading software for high roller punters.
Download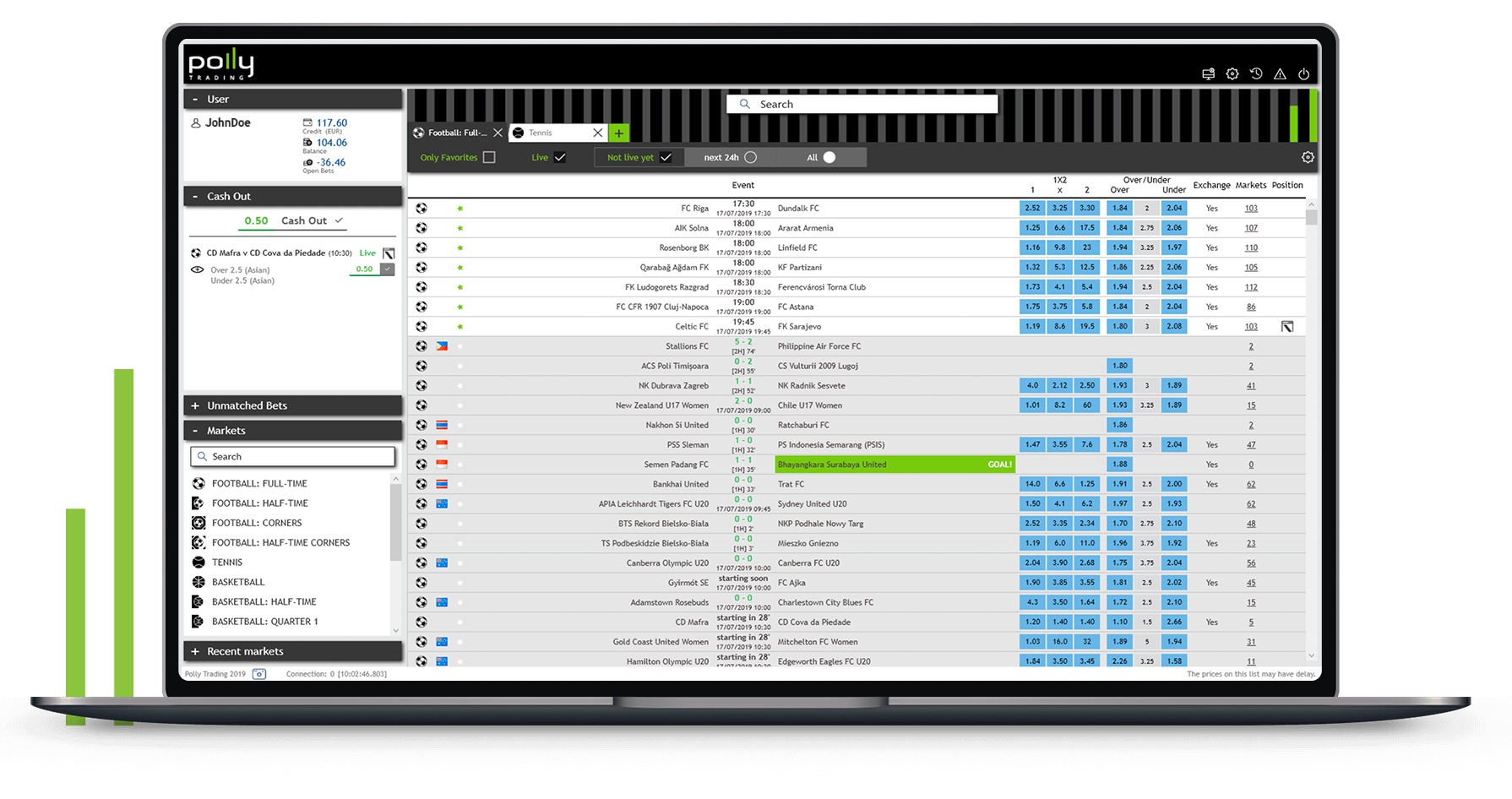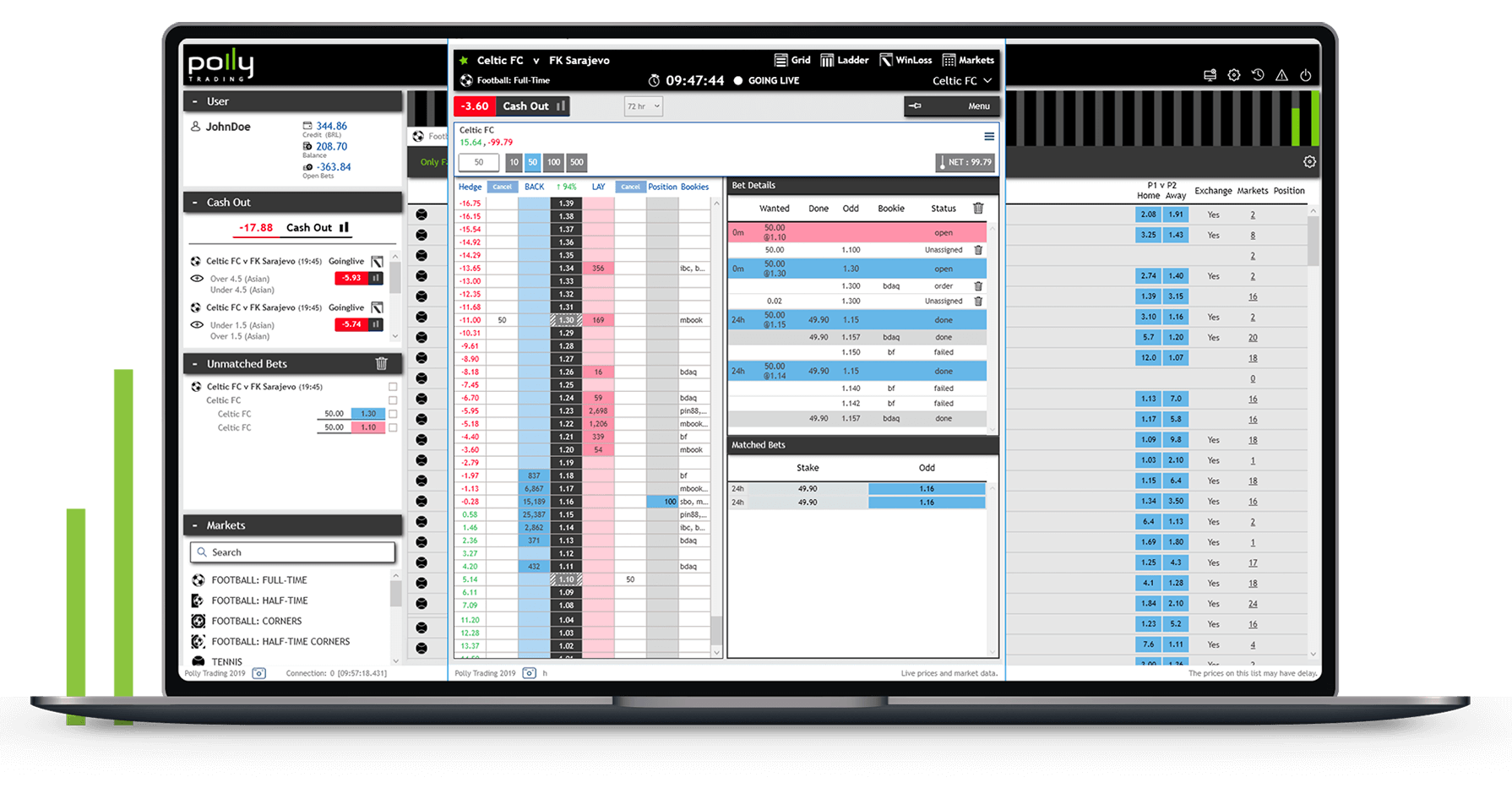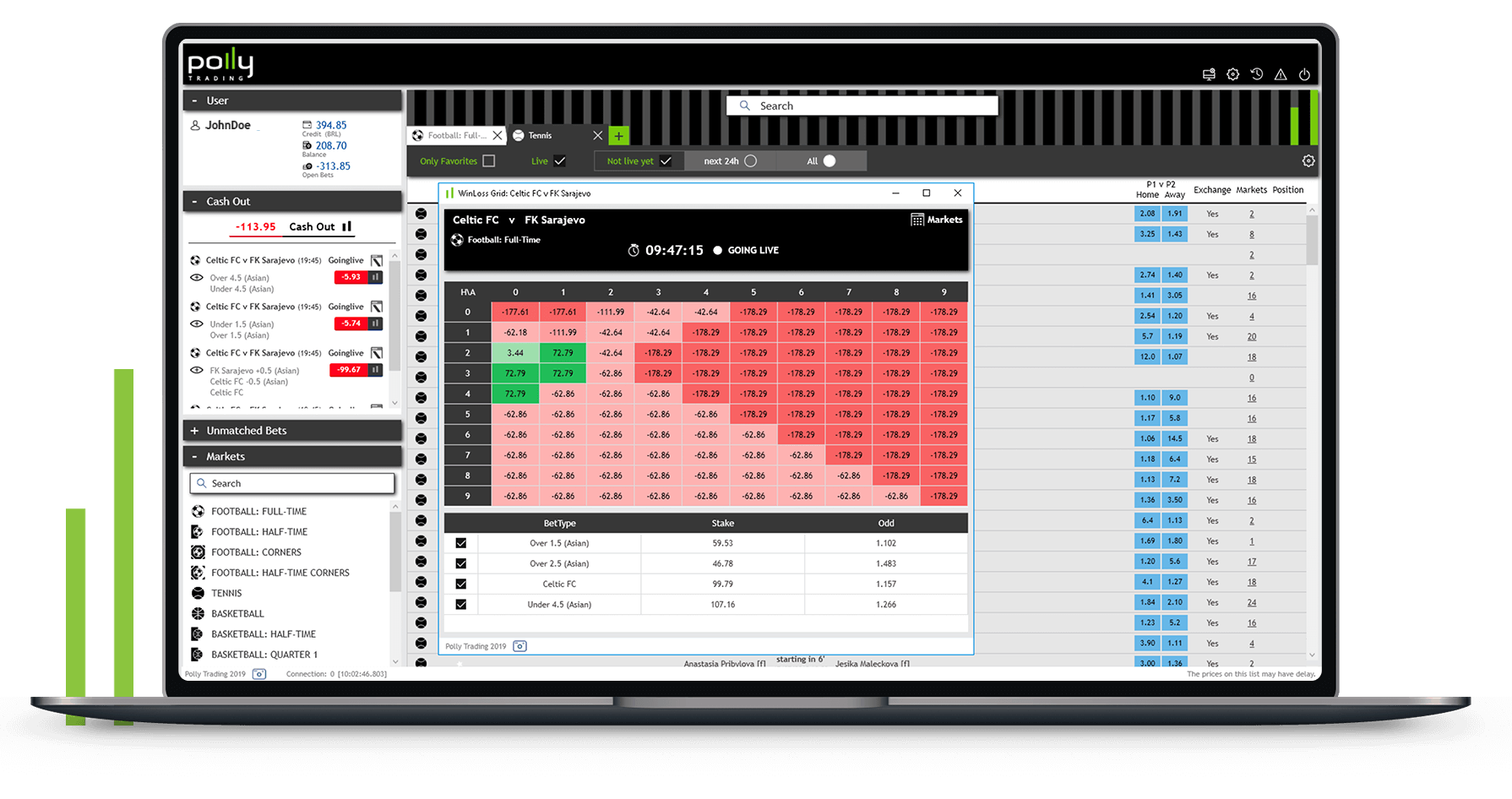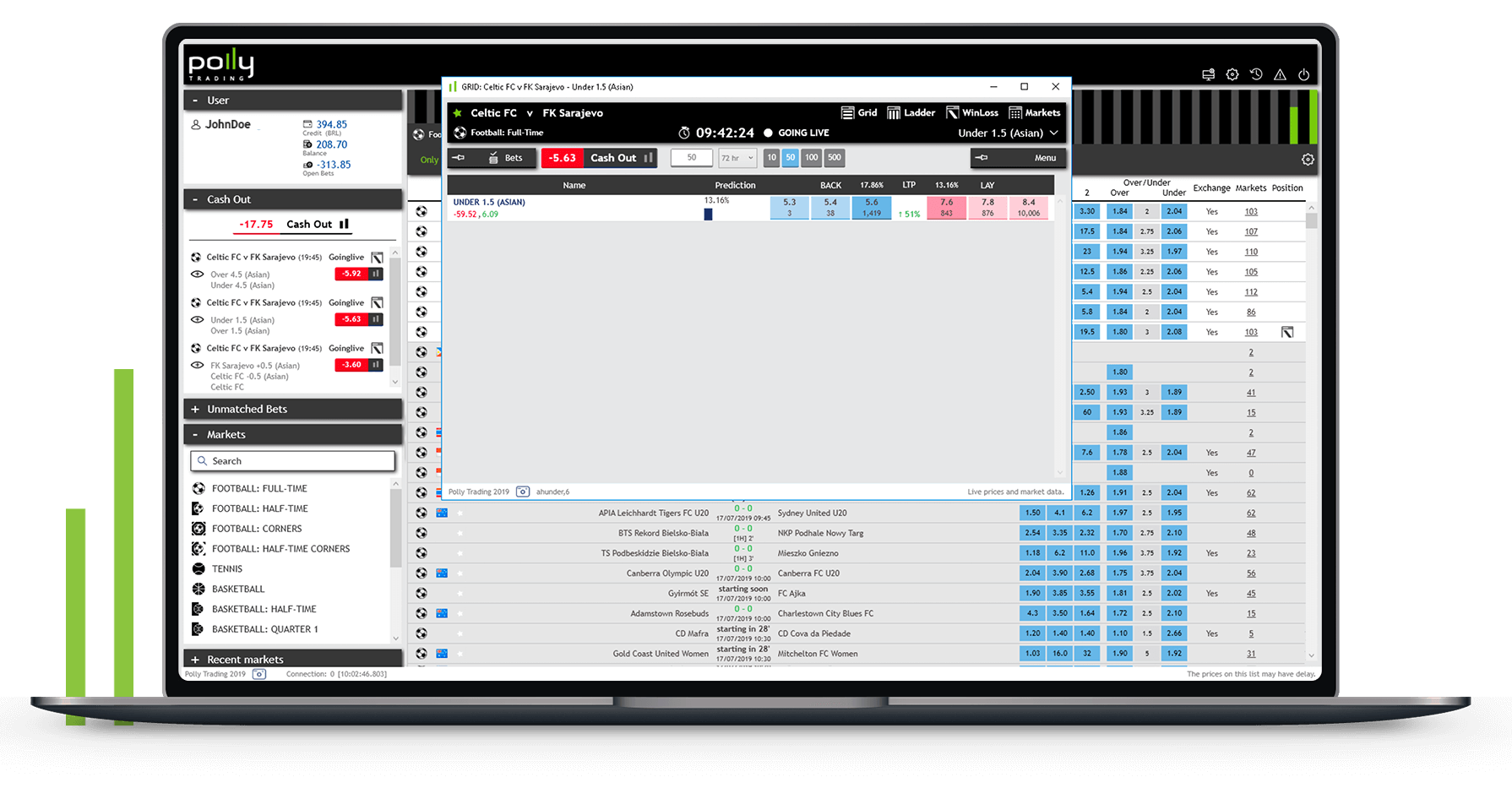 Pollytrading shows real time odds for betting with the higher stakes you can get. We place your bets in various bookmakers so you can have the highest liquidity. Our software automatically does this to deliver only the best options - fastest price retrieval and bet placement in the market.
Supported many of the best and most powerful bookmakers and exchanges
All in one software, we integrate with the best exchanges and Asian bookmakers. Depending on the accounts provided by your agent, you'll have access to the best odds and liquidity to place your bets while increasing your ROI.
Did you know that the odds for Asian handicap markets are higher on our Asian bookies more than 70% of the times when compared to the exchanges? Don't settle for an exchange, let Pollytrading search and find you the best odds every time you place a bet.
All your favourite sports
The best user experience with our software
Trade more and trade faster. Our software combines the best trading features with top performance. All these features are arranged so you can quickly find what you are looking for: events, competitions, sports or our powerful search tool.
Customisable layout
Multi-window software. Open up to 4 markets simultaneously.
Set up the bookies or markets which odds you want to see.
Customise your homepage view by event time.
Choose competitions or events to add to "favourites".
4 Optional views
Grid view. Market view with the best 3 Back and Lay odds.
Ladder view. Market view with complete list of odds Back and Lay.
All Markets view. See all odds and choose the best bets. Check out different markets.
Winloss view. Get the big picture. Know how much you will win or lose in all your current positions.
Stake options
Single click bet, with predefined default stake.
List of customizable stakes to easily toggle them.
4 stake modes to manage your risk: stake, liability, mix, profit.
3 automation modes: fill or kill, tick offset, auto-trade.
Cash Out to close your positions
Quick Cash Out button in the markets page.
Hedge column in ladder view, to choose at what odd you want to Cash Out.
Complete Cash Out list to see (and easily open) all the markets in which you have placed your bets.
And more
The fastest and most in-depth football livescores.
Recent markets displayed, for quick access or to switch between them.
Full history of all your bets.
Customisable alert sounds.
The reasons behind our success
our leader team
We have an experienced team that uses the latest technologies to deliver a high standard quality software. It is continuously tested by some of the best Asian traders in the world, with a deep knowledge in Exchanges and Asian markets.
security first
Our system is fully integrated with Mollybet API, using secure SSL connections both on request-response HTTPS calls and on persistent streaming data connection via WSS web sockets.
vip costumer support
If you have any doubts related to registration, to your account (deposits, withdrawals, credit, ...) or to our software, we are always pleased to help. We are committed to answer all your questions in a maximum of 24h (working days).
free of charge
Final odds for liquid profit bets
Pollytrading shows the final values for the odds, so that you will not have to think about commissions before you bet. The odd you see is the final profit you will earn, no commissions added later.
Pollytrading is free for you
Our profit comes from agents, bookmakers and exchanges. We need you to use our software and bring volume to the markets, that's why the software is 100% free for you.
High security deposits/withdrawals
You can choose one of the highest security and well known options to deposit or withdraw your profit from your Pollytrading account.
The minimum deposit amount is 150EUR, or 400BRL, depending on the currency of your Pollytrading account. For the first withdrawal, the Rollover will be: 1x the deposit amount.
Want to give it a try?
With or without a Mollybet account, you just need to register.
It will just take a minute.